If my dogs had to pick a favorite type of review, anything involving eating would probably be number 1. So when Kyr from Leo & Company contacted me about trying some of their biscuits and doing a review, I knew my crew would be happy.
Leo & Company was started training treats were needed for Loki, an adopted dog who not only was her son Leo's best friend but also became his service dog.  Now they make their treats to help raise money for animal causes by donating part of the proceeds.
I received 4 different flavors to sample-
Buffalo Biscuits- ingredients- spelt, pasture raised buffalo, vegetable broth, apple, olive oil, bee pollen, flax, molasses, herbs
Apple & Peanut Butter- ingredients- spelt, apples, peanuts, walnut oil, bee pollen, flax, molasses, herbs
Lamb & Rice- ingredients- spelt, pasture raised lamb, vegetable broth, apple, olive oil, organic apple, bee pollen, flax, molasses, herbs
Parmesan Cheese Dog Biscuits- ingredients- spelt, parmesan cheese, vegetable broth, olive oil, bee pollen, flax, molasses, herbs
All made of organic human-grade ingredients, the biscuits looked good enough for me to eat, well maybe the Apple & Peanut Butter and Parmesan Cheese biscuits. I'm not much of a meat flavored biscuit person.
When the biscuits arrived, I just happened to be watching my sister's dog, Baxter, for the weekend. Baxter is an 11 year old English Setter who tends to be picky normally, but is even more picky now that he is suffering from chronic renal disease.  I thought this would be the perfect chance to see how
a picky dog would like the biscuits, so I took one of each flavor out and laid them in a row on the bed.  He sniffed each one until he got to the last one, Parmesan Cheese, and he gobbled that one down.  He then proceeded down the line eating up each one and looking for more. Since he liked them so well I used a couple later on to break up and mix into his food to get him to eat.  (My crew also gave them a big paws up when they got a chance to try them.)
Review Wrap-up
+ Organic, human-grade ingredients. I like knowing that my pets are eating healthy ingredients and not what is left over from preparing food for human consumption.
+ Made to order. There is no doubt they are fresh since they are made as orders come in.
+ Good for dogs with food allergies. When you have a dog with food allergies, it can be hard to find something they can enjoy.  Leo & Company stays away from common allergens like beef, wheat and soy and includes some uncommon protein sources like buffalo in their treats.
- Some people may balk at the price ($8.00 plus shipping for a 10oz package), but these aren't your supermarket bulk bin biscuits. Leo & Company works hard to find the best ingredients for their biscuits. They get to know the farms they get their ingredients from.  You can learn about one farm on the Leo & Company blog.
You can purchase Leo & Company Biscuits and Treats through their online store
where you can purchase training treats and biscuits, join their biscuit of the Month Program or purchase make it yourself mix.
Would you like the chance to win a bag of Leo & Company biscuits for your favorite canine? Leo & Company is going to send a 1 lb mixed bag of dog biscuits to one lucky reader.
The Giveaway is open to US readers only.  It will end on Friday, June 24th at 6pm Eastern Time.
The winner will be chosen by using Random.org and will be contacted by email for their mailing address.  If the winner doesn't respond within 72 hours of the email being sent, a new winner will be chosen.
There is 1 mandatory entry method and then 4 additional entry methods. A comment will need to be left on this post for each entry method.
Mandatory Entry-
Visit Leo & Company's store and  then come back and leave a comment telling us what item in the store is your favorite.
Additional Entry Methods-
1.) Like Leo & Company on Facebook.
2.)Visit Leo & Company's blog and leave a comment on one of the posts.  In your comment below, let us know what post you left your comment on.
3.)Follow @LeoandCo and @petproductrevue on Twitter and tweet about the Giveaway.  Leave the url to your tweet in your comment. (You can find the url by clicking on the time in your tweet.)
You can use the following Tweet if you like-
I entered the Leo & Company Dog Biscuit Giveaway and you can too at http://www.petproductreview.net  #leoandcompany
4.) Post about the Giveaway on your blog, then leave a link to your post in the comment below.
Good Luck!
Disclaimer:  I received a sample for use in my review.   The review of this product is the opinion of me and my pets. I received no compensation for my review and receipt of this product did not influence my review. The review may contain affiliate links for which I may receive compensation when you make a purchase from the site linked to in the review.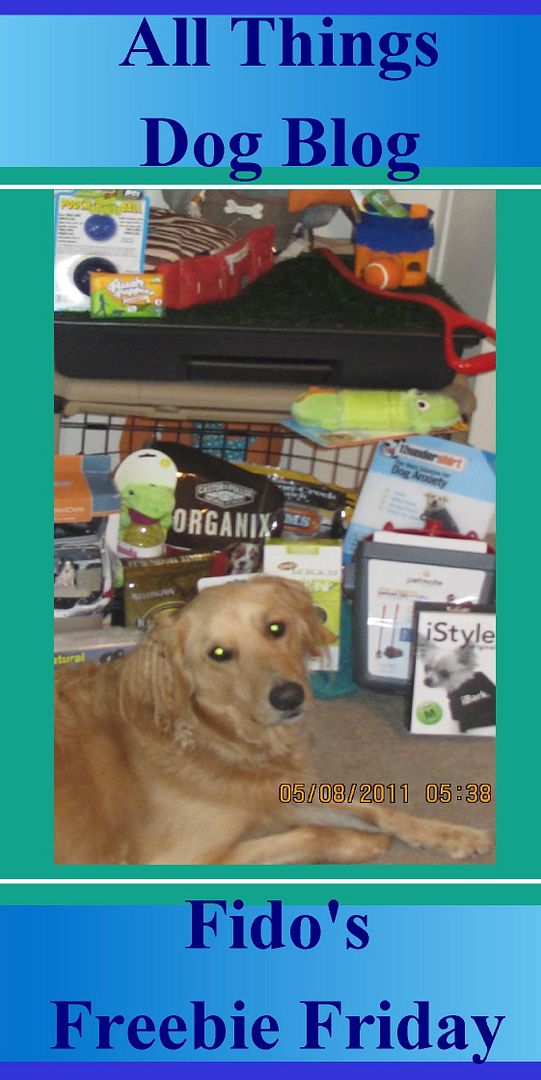 Find this giveaway as well as other by visiting All Things Dog Blog and Doggies and Stuff.